D-Six wine, beer & spirits
Due to the Covid-19 pandemic we are operating reduced opening hours. We are open from 12-9.30pm Monday to Saturday and 12.30-9pm on Sundays. Should you wish to pre-order call 01-4978935 and we can process your order and pop it in your boot when you arrive. If you would prefer delivery please call the same number.
While in the shop please:
Respect social distancing advice
Pay by card if possible
Limit of 3 people allowed in the store at a time.
Many thanks,
Dairine
Located next door to Peggy Kelly's Pub D-Six stocks over 300 wines. We also stock an extensive range of spirits and beers.
Call 01-4978935 for deliveries



Limited Edition Craft Beers: List updated Sunday June 28th

Hitachino Beer: (Japan)
Hitachino Nest Japanese Classic Ale
Hitachino Nest Red Rice Ale
Hitachino Nest White Ale Can
Hitachino Nest Real Ginger
Hitachino Nest Hipponia Pilsner
Hitachino Nest Amber Ale

Trouble Brewing: (Ireland)
Trouble Brewing Ambush
Trouble Brewing Vietnow IPA
Trouble Brewing Speakerbox Double IPA
Trouble Brewing Park Life Helles

To ol: (Denmark)
To ol 45 Days Organic Pilsner Can
To ol House of Pain Can
To ol City Session IPA
To ol Whirl Domination Can
To ol Gose To Hollywood

Lervig: (Norway)
Lervig Helles Yeah
Lervig Perler For Sven

Whiplash: (Ireland)
Plausible Deniability
Sandstone - sold out

Hope Brewery: (Ireland)
Hope Summer Seasonal

Larkins: (UK)
Larkins Single Hop Mosaic Pale Ale - sold out
Larkins Single Hop Citra Pale Ale

Dot Brew: (Ireland)
Dot Brew Intersection
Dot Brew Straight Up IPA
Dot Brew So Far So Good
Dot Brew Face-Time Blended Sour

Third Barrel / Third Circle: (Ireland)
These Four Walls
Shut Up Juice
Unsocial Creatures

Selection of Mini Kegs available - please call to see what is in stock


Craft Beer Specials
4 for €10:
Brewdog Dead Pony Can
Brewdog Punk IPA Can
Brewdog Indie Can
Sierra Nevada Pale Ale Can
Sierra Nevada Pale Ale Bottle
Rascals Happy Days
Rascals Wunderbar Can
Rascals Yankee White Can
Rascals Fruitopolis Can
Brooklyn Lager Can
Brooklyn Defender Can
Founders All Day IPA Can
Hard Seltzer Black Raspberry Can
Hard Seltzer Blood Orange Can
Hard Seltzer Hibiscus Lime Can
Hopfully Graciosa Can
Hopfully Indoor Yoga Can
Whiplash Rollover Can
Whiplash Body Riddle Can
White Hag Little Fawn Can
White Hag Phantom Can
White Hag Atlantean Can - sold out
White Hag Ninth Wave Can
White Hag The Puca Lemon - sold out
White Hag The Puca Berry -sold out
Ska Modus Mandarina Can - sold out
Ska Modus Hoperandi Can - sold out
Ska Modus Moral Panic Can - sold out
Sierra Hazy Little Thing Can
Sierra Summerfest Can
Sierra California Can - sold out
Sierra Tropical Torpedo Can - sold out
Thornbridge Jaipur Can
Lervig House Party Can
Lervig Extra Hard IPA Can - sold out
Magic Rock Saucery Session Can (Gluten Free)
Magic Rock High Wire West Coast IPA Can
Magic Rock High Wire Grapefruit Can
Wicklow Wolf Avalanche Can
Wicklow Wolf Eden Can
3 for €9:
Brewdog Elvis Juice Can
Brewdog Hazy Jane Can
3 for €10:
Wicklow Wolf Elevation Can
Wicklow Wolf Mammoth IPA Can
Wicklow Wolf Apex Oatmeal Stout
Wicklow Wolf Wildfire Hoppy Can
Wicklow Wolf Arcadia Can
Beavertown Gamma Ray Can
Beavertown Neck Oil Can
Kinnegar Big Bunny Can
Kinnegar Bucket & Spade Can
Kinnegar White Rabbit Can
Kinnegar Scraggy Bay Can
Kinnegar Merry Tiler Can
Kinnegar Black Bucket Can
Kinnegar Devils Backbone Can
Kinnegar Limeburner Can
Kinnegar Crossroads Can
Tool 45 Days Organic Pilsner Can (Limited)
Tool House of Pain Can (Limited)
Tool City Session IPA (Limited)
Tool Whirl Domination Can (Limited)
Hope Underdog Can
Hope Pass If You Can
Hope Handsome Jack Can
Hope Hop On Can
Hope Summer Seasonal Can
5 for €11.50:
Tyskie 500ml
Lech 500ml
Budvar 500ml - out of stock
Franziskaner 500ml
Spaten 500ml
Staropramen 500ml - out of stock
Other Specials:
Peroni 660ml Bottle 4 for €12
Pilsner Urquell 500 ml Bottle 4 for €11




Wine
6 Bottle Old World Box €120 (3 Reds, 3 Whites)
12 Bottle Lockdown Box €200 (6 Reds, 4 Whites & 2 Roses)
6 Bottle Lockdown Box €70 (3 Reds & 3 Whites)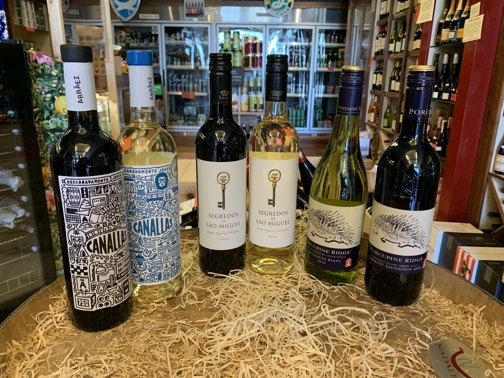 Iberian Wine Box €84 (3 Portuguese Red & 3 Spanish White)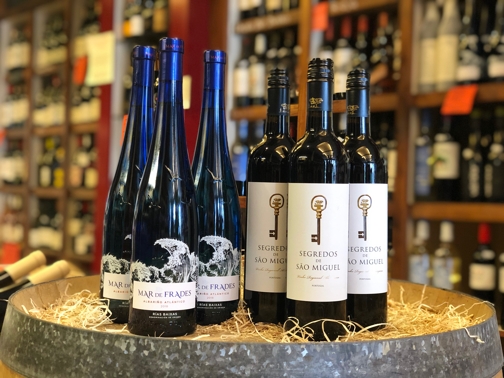 Cocktail Kit



Rosé selection:

Whispering Angle 3 Litre bottle (limited availability)


American Wine
Brazin €21.99
Four Graces Pinot Noir €37.99
Gnarly Head Authentic Black €18.99
Morgan Bay Cabernet €15.99
Predator €24.99
Schug Pinot Noir €35 New
Argentinian Wine
Atamisque Cabernet €29.99
Callia Pinot Grigio €13.99
Callia Pyros Malbec €24
Catena Cabernet Sauvignon €19.99
Catena Chardonnay €19.99
Catena Malbec €19.99
Dada 1 €10.99
Dada 2 €10.99
Dada 3 €10.99
Dada Art Malbec €10.99
Don David Reserve Malbec €14.99
Piedra Negra Malbec €15.99 New
Las Moras Malbec €9.99
Las Moras Pinot Grigio €9.99
Las Moras Sauvignon Blanc €9.99
Australian Wine
Kellys Patch Chardonnay €10.99
Kellys Patch Merlot €10.99
Kellys Patch Sauvignon €10.99
Kellys Patch Shiraz €10.99
Larry Cherubino Ad Hoc Cruel Mistress Pinot Noir €25
Larry Cherubino Ad Hoc Chicken And Hen Chardonnay €25
Peter Lehmann Barossa Shiraz €14.99
The Accomplice Chardonnay €12.99 New
The Accomplice Shiraz €12.99 New
The Stump Jump Red €14.99
Yalumba Galway Shiraz €17.99
Yalumba Organic Chardonnay €17.99
Yalumba Organic Shiraz €17.99
Yalumba Organic Viognier €17.99
Champagne
Bollinger Champagne €65
Gosset Reserve Brut €75
Laurent Perrier NV Champagne €59.99
Laurent Perrier Rose €96
Moet & Chandon NV Champagne €55
Moet NV Champagne Half Bottle 375ml €34.99
Moet NV Champagne Snipe 200ml €19.99
Moet NV Rose €65
Pommery Champagne €52
Veuve Cliquot NV Champagne €61
Veuve Cliquot Rose NV Champagne €75
(for Crement, Cava & Prosecco see Sparkling Wines further down this page)
French Wine
Ardeche Pinot Noir €14.99
Beaumas Pinot Noir €16.99
Bijou Rose €15.99
Chablis 1er Cru Grand Cuvee €34.99
Chasse Spleen (price varies with vintage)
Chateau Doudeau Leger Sancerre €21.99
Chateau Fayau Bordeaux Superieure €18.99
Chateau Mont Redon Chateauneuf de Pape €38.99
Chateau Mont Redon Cotes Du Rhone Blanc €19.99
Chateau Mont Redon Gigondas €33.99
Chateau Mont Redon Lirac €22.95
Mont Redon Reserve Cotes du Rhone Rouge €17.99
Mont Redon Rose €17.99
Chateau Moulin De Mallet €16.99
Chateau Pipeau €41.99
Chateau Puy Blanquet €37.95
Chateau Tayet €22
Chateau Vincens Origine Cahors €18.99
Chauveau La Charmette Pouilly Fume €21.99
Ciffre Saint Chinian €17.99
Clos De L Hermitage €28.99 - sold out
Clos Des Templiers €29.99
Domaine De La Noe Muscadet €14.99
Domaine Guenault Touraine €17.99
Domaine Lardy Fleurie Vieilles Vignes €23.99
Domaine Lardy Moulin A Vent €23.99
Envol De Sansonnet €29.99
Figieure Le Saint Andre €17.99
Galius Saint Emilion €34.99
Jean Paul Seguin Sauvignon Blanc €14.99
La Fage Rose €19.99
La Pierrelle Chablis €23.99
La Reserve D Angludet €39.99
Les Argelieres Pinot Noir €14.99
Les Fumees Blanches Sauvignon Blanc €14.99
Les Fumees Blanches Rose €14.99
Les Terrasses White €12.99
Macon Lugny Eugene Blanc €18.99
Macon Vergisson Chardonnay €19.99
Marquis de Goulaine Rose €12.99 - Special Offer
Mas Saint Louis Chateauneuf de Pape €39.99
Montenay Cabernet Sauvignon €14.99
Moulin Gardette Gigondas €36.95
Petit Chablis €22.99
Petit Martin Vaucluse €14.99
Picpoul De Pinet Croix €15.99
Roisin Curley Beaune Rouge €50
Roisin Curley Saint Romain Blanc €55
Rosabelle Rose €14.99 - sold out
Saint Emilion AC €19.99
Signee Domaine Des Jougla €20.99
Simon Pouilly Fuisse €35
Thulon Boite A Gamay Beaujolais €15.95
Trimbach Gewurztraminer €22.95
Trimbach Riesling €20.95
Italian Wine
Barolo Camilla Bruna Grimaldi €40
Campolieti Valpolicella Ripasso €19.99
Capitel De Roari Amarone €33.99
Carpineto Rosso Di Montalcino €27.99
Cartagho Mandarossa €32.95
Col Lamo Brunello Di Montalcino €52
Falanghina Del Sannio €16.99
Falerio Saladini Organic €16.50
Fontanafredda Gavi Di Gavi €21.99
Fonte Romana Paseti €16.99
Fonterutoli Chianti Classico €24
Fonterutoli Ser Lapo Chianti Reserva €26.99
Gran Reserva Chianti Fonteroti €52
La Guaite Amarone €62.99
La Maialina Chianti €14.99
Leone De Castris Salice Salentino Reserva €20.99
Mazzei Belvardo Vermentino €18.99
Mazzei Poggio Badiola €19.99
Pasetti Montepulciano D'abruzzo €22.99
Pio Cesare Barolo €79.99
Primanero Puglia €16.99
Primaterra Pinot Grigio €14.99
Ripassa Zenato Valpolicello €26.99
Rosso Riserva R Guardiolo €17.99
San Leonardo 08 €79.99
Santa Cristina Rosso €16.95
Suavia Soave €22
Surani Tommasi Ares €17.99
Tommasi Amarone €45.95
Tommasi Ripasso €22.99
Torrenova Red €10.99
Austrain Wine
Am Berg Gruner Veltliner €21.99
Dot Gruner Veltliner Apple €16.99
Dot Peach Riesling €16.99
Dot Pepper Gruner Veltliner €16.99
Pfaffl Gruner Veltliner Zeisen €19.99
Pitti Red €18.99
Sepp Organic Gruner Veltliner €18.99
Sepp Organic Zweigelt €18.99
Greek Wine
Nemea Reserve Red €16
German Wine
By The Glass Riesling €15.99
Emrich Schronleber Riesling €21
Geil Pinot Blanc €17.99
Geil Pinot Noir €19.99
Geil Riesling Trocken €17.99
Wagner Stempel Spatburgunder €22
Fritz Haag Riesling €21.99
Hungarian Wine
Chateau Dereszla Tokaji Aszu 5 Puttonyas (Sweet Wine) €39.99
Chateau Deresla Tokaji Dry White €17.99
Chateau Deresla Tokaji Furmint White €15.99
Lebanese Wine
Chateau Musar €39.99
Ksara Reserve €19.99
Uruguayan Wine
Garzon Albarino €19.99
Garzon Cabernet Franc Tannat €15.99
Garzon Pinot Grigio €15.99
Garzon Tannat Reserva €19.99
New Zealand Wine
Babich Organic Chardonnay €28.99
Babich Black Label Sauvignon €23.99
Babich Pinot Noir Rose €23.99
Cloudy Bay Pinot Noir €46.95
Cloudy Bay Sauvignon €35.95
Huia Pinot Noir €27.99
Huia Sauvignon Blanc €20.99
Hunter Pinot Noir €23.99
Hunter Sauvignon Blanc €20.99
Kono Sauvignon Blanc €17.99
Pear Tree Sauvignon Blanc €19.99
Pegasus Bay Pinot Noir €45
Peter Yealands Sauvignon Blanc €13.99 (Special Price)
Sileni Pinot Noir €17.99
Sileni Sauvignon Blanc €15.99
The Ned Sauvignon Blanc €15.99
Two Paddock Picnic Pinot Noir €30.99 New
Two Paddocks The Fusilier €62.99 New
Portugeuse Wine
Herdade De Grous Moon Harvest €35.95
Herdade De Grous Red €21
Lapa Dos Gaivoes €18.99
Malhadinha Red €51
Mariana Vinho Tinto €15.99
Monte Da Peceguina Red €21.99
Monte Da Peceguina Rose €20.99
Monte Da Peceguina White €18.99 (Special Offer)
Monte Da Ravasqueira Reserva Sauvignon €18.99
Peceguina Touriga Nacional €38
Pegos Claros Reserva €16.99
Prova Regia €14.50
Quinta De Cidro Reserve Chardonnay €25.95
R De Romaneira Red €17.99
Ribeiro Santo Dao €15.99
Sardine Submarine Red / White / Rose €11.99 New
Segredos De Sao Miguel Red €11.99
Segredos Sao Miguel White €11.99
Solto Vinho Verde €14.49
South African Wine
Boschendal Chenin Blanc €17.99
Boschendal S And M €17.99
De Morgenzon Dmz Syrah €23
Dmz Chenin Blanc €22
Kanonkop Kadette €17.99
Meerlust Rubicon €41.99 New
Porcupine Ridge Cabernet €10.99 (Special Offer)
Porcupine Ridge Chenin €10.99 (Special Offer)
Porcupine Ridge Merlot €10.99 (Special Offer)
Porcupine Ridge Sauvignon €10.99 (Special Offer)
Spanish Wine
12 Volts €27.99
Acon Ribera Del Duero Reserve €33.99
Acon Roble €18.99
Albarino Valminor €19.50
Bodegas Roda Sela €27
Canallas Red €11.99
Canallas White €11.99
Coto De Imaz Rioja €19.99
El Coto Crianza €16.99
Emilio Moro Ribera €29.99
Evodia Garnacha €16.50
La Bicicleta €18.99
La Montesa €21.99
La Vendimia Rioja €16.99
Lopez De Haro Crianza €15.95
Lopez De Haro Gran Reserve €26.95
Lopez De Haro Reserva €18.95
Mar De Frades Albarino €18.99
Matsu El Picaro €16.95
Matsu El Recio €23.99
Matsu El Viejo €49.99
Merinas Organic Red €12.99
Merinas Organic Verdejo €12.99
Muga €24.99
Oveja Tinta Malbec €14.99
Protos Reseva €34.99
Protos Roble €15.99
Roda 1 €59.99
Terra De Asorei Albarino €18.99
Vermell €15.99
Wrongo Dongo €14.99
Terre Gauda O Rosal €22.99
Tuna Club Verdejo Sauvignon €11.99 New
Sparkling Wines
Bernard Massard Brut €30
Ca Vive Prosecco €13.99
Cave De Lugny Crement €27.99
Jansz Tasmania Sparkling €37.99
La Jara Prosecco €25.99
Riondo Pink Prosecco €12.99
Riondo Prosecco Frizzante €12.99
Cava Maria Casanovas Gran Reserva €35
Coldigiano Prosecco €28.99
Llopart Brut Reserva Cava €36.95
Maria Casanovas Brut Cava €23.95
Skinny Prosecco €24 sold out - waiting on next shipment from Italy
Prosecco Frizz Metico Half Bottle €9.99
Prosecco Rose Frizz Metico Half Bottle €9.99
Non Alcoholic Wines
Eisberg Non Alcoholic Red €7.99
Eisberg Non Alcoholic White €7.99
Eisberg Rose Non Alcoholic €7.99
Eisberg Sparkling Non Alcoholic €7.99
Leitz Red Non Alcoholic €11.99
Leitz Riesling Non Alcoholic €11.99
Leitz Rose Non Alcoholic €11.99
Leitz Sparkling Non Alcoholic €13.99
Noughty Sparkling €14.99

Spirits (70cl unless stated otherwise)

Gins

Bertha's Revenge Gin
Blackwater Strawberry Gin
Bombay Sapphire Gin
Brockmans Gin
Cork Dry Gin
Chinnery Gin
Dingle Gin
Gordons Gin
Gordons Pink Gin
Gunpowder Gin
Hendricks Gin
Micil Gin
Monkey 47 Gin (50cl)
Sipsmith Gin
Star of Bombay Gin
Tanqueray Gin
Tanqueray 10 Gin

Whiskey

Bushmills
Blackbush
Connemara Single Malt
Connemara 12 Year Old Single Malt
Drumshambo Irish Whiskey
Greenspot
Jameson
Jameson Crested
Paddy
Powers
Kilbeggan 21 Year Old
Midleton
Pearse Lyons
Roe & Co
Teeling Small Batch
Teeling Single Grain
Teeling Small Batch
Teeling Revival
Tullamore Dew
Tullamore Dew 12 Year Old
tullamore Dew 18 Year Old
Yellowspot

Teachers
Black & White
Dunville PX Cask

Jack Daniels
Canadian Club
Jim Beam
Southern Comfort
Bullet Bourbon

Vodka

Absolut
Grey Goose
Kalak Irish Vodka
Ketel One
Sausage Tree
Smirnoff
Stolichnaya

​​​